Health News Tue, 19 Feb 2019
Chirano organizes free eye-screening for locals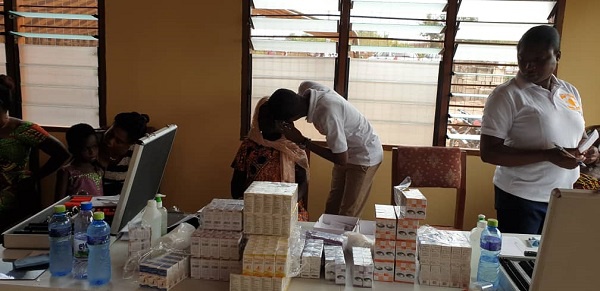 The Chirano Gold Mines Limited has offered free eye screening to over a 1000 people in twenty one communities in its catchment area, as part of its corporate social responsibility.
The screening, organized on Thursday 14th February, was also the company's way of showing love to the community that has become pivotal in its growth.

The screening, which targeted the young and elderly who have eye problems, was set up at two centres; the Paboase and Chirano Health centres, to guarantee that everyone could be attended to.

Those with conditions that could not be treated were given referrals to the appropriate facilities which could.

Human Resource Manager and community relations manager of Chirano, Thomas Nyarko Danquah said the company prioritizes the wellbeing of local communities and the free eye examination was only one of the numerous ways to show it.

He noted that these communities provided a substantial portion of Chirano's workforce, therefore, the provision of quality healthcare would benefit the Mine directly.
Dr Daniel Adu Agyemang, an optometrist with the Third Eye Care and Vision Centre, speaking in an interview, lauded the step taken by Chirano Mine to ensure the wellbeing of the communities in the area.

Outlining the activities during the screening he observed that "people showed up with itches in the eye and other petty infections that needed to be treated alongside the screening," he added.


Source: Kinross Chirano