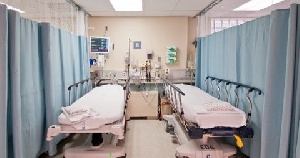 The Aplaku Family Fitness Clinic, Weija is in dire need of a generator and two delivery beds to augment the running of the facility as well as ensure adequate maternal care.
Administrators have lamented over the threatening state of the facility, describing it as a difficult working environment.

Enlisting their deficiencies' to Francis Abban on the Morning Starr Monday, managers of the facility said the situation was so bad such that sometimes child delivery had to take place with candles, when the lights went out.

Physician Assistant in charge of the clinic Michael Andorful said "power outages is one of our challenges. There was a time when in the middle of delivery, the lights went out and we had to get candles to help finish the delivery process. The husband of the woman was sent to get the candle. After the incidence, the midwives told me they will not be on night duties anymore. For two weeks they didn't report to work in the evenings and so we cancelled night shifts."

He however said even though the clinic doesn't have any bad maternal records, the working environment was not the best.
"Financially, the clinic is not in very good standing and so we engaged the Chief and later to the MP. After 5 months we've still not heard from the MP. We've appealed for funds so far in Aplaku. Some people have supported in diverse ways. We still have a few things to take care of," he added.

Mr Andorful who is the only physician assistant the clinic has noted that "my major fears are for my staff because it's quite frustrating when you are working in an environment like that. Especially my midwives. The lighting system is so bad because the hospital is quite isolated."

The hospital needs about GhC 20,000 to get a generator and two delivery beds to ensure pregnant women do not travel from Aplaku to far distances to deliver their babies.