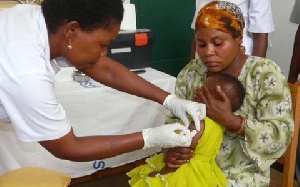 Mon, 31 Jul 2017 Source: GNA
President of the Network of Associations of Persons Living with HIV(NAP+), Emmanuel Beluzebr Suurkure has called on Persons Living with HIV and AIDS to ensure a clean environment and help prevent the spread of malaria.
He said negative attitudes towards the environment contributed to the breeding of mosquitoes leading to malaria.

'Having malaria as an HIV person is like a nightmare. Bodily pains, loss of appetite, weak immune system and sometimes you just feel like dying'.

Mr Suurkure made the call in an interview with the Ghana News Agency as part of the media campaign to highlight malaria as part of the USAID People for Health project.

The five-year P4H Project-March 2016- March 2021 would ensure improved access to quality health service delivery for citizens in 20 districts selected from four regions- Greater Accra, Eastern, Northern and Volta regions.

The project is being implemented by a consortium of three organisations led by SEND-Ghana, a non-governmental organisation (NGO), with Penplusbytes another NGO and the Ghana News Agency as partners.

It seeks to leverage opportunities for change, building on consortium members' existing good relations with local governments, District Health Management Teams and the USAID ongoing initiatives in the health sector.
Mr Suurkure said persons living with HIV are very susceptible to malaria and little exposure to mosquitoes worsens their plight.

He said if an HIV person gets malaria, it weakens his or her immune systems and decreases the CD4, thereby increasing the viral load of the HIV person.

'It is therefore very essential for them to take good care of themselves and ensure that their environments are always cleaned of filth', he said.

Mr Suurkure expressed concern about the complains being received by sections of the public of the discomfort felt whenever they sleep under the insecticide treated bed nets, and entreated persons living with HIV, especially pregnant women and children, to always sleep under the bed nets.

He commended the National Malaria Control Programme (NMCP) for the free distribution of the bed nets, adding, 'though they are not enough, we hope they will continue with their distribution'.

The NAP+ President appealed to government to ensure that the needed logistics are made available for the CSOs to also perform their advocacy role.
He also expressed concern about the dwindling flow of global funds, which are meant for support groups and called on government to assist these groups with income generating activities to help sustain and improve their livelihoods.

Malaria has been a major cause of poverty in Ghana and accounts for about 32.5 percent of all Out Patient Department (OPD) attendances and 48.8 percent of under-five years admissions.

Statistics from NMCP indicates that in 2014, about 8.4 million cases of OPD malaria were recorded, 27.3 per cent of all admissions were attributed to malaria with 7.2 per cent of all deaths on admission were also from malaria.

Nine million confirmed malaria cases were recorded in 2013, with 2,985 deaths. And 7 million cases were also recorded in 2014, with 2,200 deaths. In 2015, six million malaria cases were recorded with 2,137 deaths.

According to the World Health Organization there were 214 million new cases of malaria worldwide in 2015, with 438,000 deaths and most of the malaria deaths occurred among young children claiming a child's life every minute.
Source: GNA