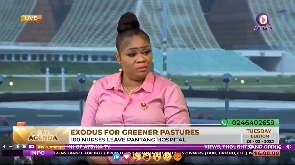 A national Deputy Director of the New Patriotic Party (NPP) Communications Team, Jennifer Oforiwaa Queen, has called on the government to address issues that push nurses to travel abroad for greener pastures.
According to reports, nearly 150 experienced nurses and other health professionals from the Pantang Hospital have left the shores of the country in search of greener pastures in the last six years.

Of the total, 100 are specialized psychiatric and general nurses, while the rest consist of doctors, pharmacists, technicians, and other experienced personnel in the healthcare delivery chain.

Data sourced from the hospital showed that the number of experienced professionals that have abandoned their jobs has started increasing in an alarming manner since the outbreak of the coronavirus (COVID-19) pandemic.

This phenomenon is defeating the efforts of the government to reinforce the workforce of the hospital with the recruitment of an additional 179 staff (professional nurses numbering 129) between 2018 and 2022.

An assessment of the data showed that, from a report of eight professionals leaving in 2018, the number gradually jumped to 26 personnel in 2020 and peaked at 64 practitioners resigning in 2022.
The situation became more alarming when 11 experienced professionals, made up of 10 nurses and one doctor, resigned in January this year alone.

Read Also: DDEP: Sophia Akuffo has the right to register her displeasure- NPP Communicator

Speaking on Atinka TV's current affairs show, "The Agenda," by Nana Yaw Fianko (the Speaker), Jennifer Oforiwaa Queen admitted that nurses have been complaining a lot since time immemorial, but their issues have not been entirely addressed.

Although she said she did not know exactly what pushed these nurses to travel outside of the country to work, she said the situation was worrying, hence the need for the government to address their challenges.

"If there is something we need to address, I think we all have to come together and do it, but for someone who desires to travel, there is nothing much you can do," she said.
She continued, "Let us look for the peculiar problem bothering them and let us address it." "We should look at the things that make them leave the country."

Ghana| Atinkaonline.com| Porcia Oforiwaa Ofori

TAGSNews

#QuirpTTWW66$$#1#FacebookTwitterPinterestWhatsApp

Previous articleNDC Presidential race: Mahama to launch campaign Thursday Porcia Oforiwaa