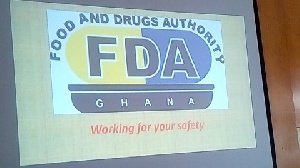 Ghana's Food and Drugs Authority (FDA), has listed more than 44 diseases for which advertisement for treatment, prevention or cure are prohibited in the country.
The FDA has directed that no media house or a person should advertise a drug, a herbal medicinal product, cosmetic, medical device or household chemical substance to the public as a treatment for a disease, disorder or an abnormal physical state unless the authority has approved the advertisement.

The diseases include alcoholism, amenorrhoea, appendicitis, arteriosclerosis, asthma, bladder stones, blindness, cancer, convulsion, deafness, diabetes, and diphtheria, diseases of the reproductive organ, dropsy, epilepsy, and erysipelas.

Others are; fibroid, gallstones, goitre, heart disease, hernia or rupture, hypertension, infertility, kidney failure, kidney stones, leprosy, leukaemia, locomotory, systemic lupus erythematosus, mental disorders, nephritis or Bright's disease, and obesity.

The rest cover; paralysis, pleurisy, pneumonia, poliomyelitis, prostate diseases, scarlet fever, septicemia, sexual impotence, smallpox, tetanus or lock-jaw, trachoma, and tuberculosis.

Mr Emmanuel Nkrumah, the Head of Cosmetics and Household Chemical Substance Department at FDA, who made the revelation during sensitization training in Wa said: "They shall not be advertised either in a Live Presenter Mention (LPM) or in any form of advertisement."
He said the FDA would crack the whip on anyone or media house that violated the law.

"No one shall advertise food unless the advertisement has been approved by the authority," he stressed.

Mr James Lartey, the Head of Communications at FDA, said many people were hiding behind social media and doing unapproved advertisement and those who contravened provisions of the law would be prosecuted and if found guilty could be liable to a conviction and or a fine not less than 7500 penalty Units.

"All media houses and advertisers are therefore urged to treat as important and comply in the interest of public health and safety," he said.

He encouraged the public and the media to provide the FDA with information on activities likely to endanger public health and safety.