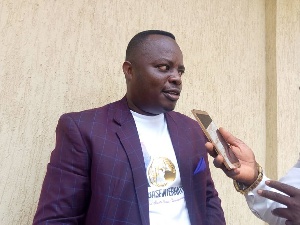 Mon, 25 Feb 2019 Source: Prosper Agbenyega
The Executive Director of HEALTHBASE International, Nathan Perry Mensah said accurate data on the incidence, prevalence, morbidity and mortality rates of a particular disease or otherwise helps a nation to know the strategies to adopt and systems to employ.
He said most research institutions must understand that "when you compute and project figures to suit your whims and caprices, it impacts negatively on the nation."

Nathan Perry Mensah was speaking during the launch of the organization's 2019 Action Campaign Project at the Oceanic Resort in Korle-Gonno last Friday.

According to him, Field research must be taken seriously by research coordinators because it unravels astonishing details all the time.

"It is quite unfortunate to be projecting health statistics which has no reflection on the reality on the ground but rather to please donor agencies for more funding," he said.

He however mentioned that donor agencies must devise a way of conducting proper monitoring and evaluation on projects they have invested in to ensure that funds are not diverted into other areas of personal enterprise.
He also averred that the habits of bringing people to fill questionnaires at all cost whether they relate to the research bracket or not in matters requiring personal interactions must be a thing of the past, adding that He said: "many research sectors of our economy are equally guilty of questionable research practices, withholding analytical details and modifying results to improve outcomes.

This will dent our progress as a nation and derail our prospects if nothing is done to nib it in the bud."

HEALTHBASE International

HEALTHBASE International was established in November 2012 by a group of Health professionals with the mission of promoting total health through health status consciousness.

The organization's goal is to contribute to the wellbeing of every Ghanaian by helping people to know, confirm, accept and deal with their health status, help individuals to effectively manage their health conditions and help reduce premature deaths.
The organization also has the objective of helping improve the standard of living as preventive health care is cheaper than curative health care and provide an avenue for Increased Access to healthcare for the poor.

HEALTHBASE International is a member of the National Coalition of NGOs in Health in the Greater Accra Region in Ghana.

According to the Executive Director, even though they operate on a broad spectrum path to play Advocacy roles on all health issues, they have decided to major their activities under the Sexual and Reproductive Health sector.

He said the organization has been vocal in campaigning against the spread of Sexually Transmitted Infections/Diseases through many schools, communities, churches and mosques.

As part of their activities, the Foundation were in school like the Accra Academy, Presec Boys Senior High School (Legon), Adisadel College, St Augustine's College (Cape Coast), and Winneba Senior High School.
The Foundation also worked in Vocational and tertiary institutions including Government Secretariat School, Sackey Addoo Secretariat Institute and the Social Advance Institute.

He said: "The reason for the work against Sexually Transmitted Infections or Diseases is that it harbours many topically dangerous diseases like HIV, Human Papiloma Virus (HPV), Hepatitis, Chlamydia and Syphilis."

Touching on the 2019 Action Campaign Project, Nathan Perry Mensah said the project has been primed on three thematic areas including Health Data (mobile medical screening) on 10,000 to 20 000 people in deprived communities on blood pressure and glucose levels, communities where there is low standard of living, high occupancy rate and densely populated areas with lack of basic social amenities and high illiteracy rate.

He also mentioned that the Foundation will embark on health education campaign through the Greater Accra, Eastern and Western Regions. This he said, will benefit the general public since the presentations that will be delivered will be on most of the powerful social media outlets.

He added that Stress management presentations will also be given through corporate institutions with trained human resource experts.
"It must be noted that stress is a silent killer therefore exposition on the subject will calm a lot of nerves to mitigate the efforts," he said.
Source: Prosper Agbenyega