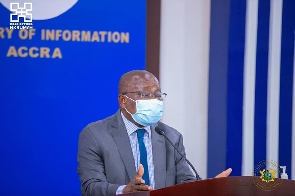 Fri, 24 Feb 2023 Source: GNA
The Free Maternal Health Policy, introduced in 2008 by the Government, is still active and covered under the National Health Insurance Scheme (NHIS), Kwaku Agyeman-Manu, the Health Minister, has said.
He made the disclosure on the floor of Parliament in his response to a question by Kwame Dzudzorli Gakpey, the Member of Parliament for Keta, who wanted to know the current status of the policy.

Agyeman-Manu said it includes automatic NHIS registration upon detection of pregnancy.

He noted that there was no waiting time for pregnant women to receive services upon registration as per the law.
The package for maternal services had been expanded to include laboratory, ultrasound, blood test, and the management of acute episodes of morbidities including emergencies.

He said the policy was implemented at all levels of health service delivery – Teaching, Regional, District, and Sub-District hospitals and the Community-based Health Planning and Service (CHPS) compounds.
Source: GNA