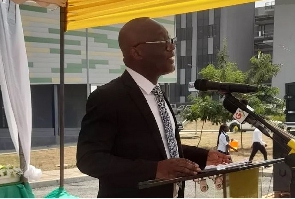 A water consultant, Rev Dr Appiah Duah has stressed the need for government to intensify its efforts in arresting the alarming rate of pollution and contamination of our water bodies.
This is because hazardous chemicals like mercury, lead, arsenic, and cyanide used in the extraction of gold have resulted in the chemical pollution of soil and water bodies in mining areas.

Rev Dr Appiah Duah, who was speaking at the third commencement lecture at Somanya in the Yilo Krobo Municipality of the Eastern Region, pointed out that some of these chemicals have resulted in poisoning, organ impairment, and death in high concentrations, among others.

Speaking on the theme for the programme "Securing our Environment: Our Water, Our Future", he mentioned that, even though there are 17 UN Sustainable Development Goals (SDGs) to be achieved by 2030, Goal 6 of the SDG, which focuses on access to clean water and sanitation for all, ensures that all member countries of the UN prioritise accessibility to clean water and sanitation facilities for all citizens, as a fundamental human right is directly and indirectly linked to the achievement of several other SDG goals, such as poverty, hunger, and good health, among others.

Hence, he encouraged the regulatory agencies to perform their assigned roles and responsibilities, which will help completely eradicate illegal mining activities and take the necessary steps together with stakeholders to reclaim the degraded lands and restore the water bodies to perform their ecological functions.
The Deputy Minister for Education in charge of T-VET, Gifty Twum Ampofo noted that the environmental challenges facing the country require innovation and scientific solutions.

Thus, she stressed the importance of keeping young children in school for a long period, which will reduce the economic pressures that lure them into illegal activities.

She also encouraged parents and guardians to enroll their wards in STEM schools to help achieve the government's vision of industrialising the economy.