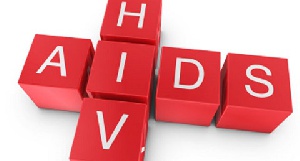 The Ghana Aids Commission has urged Ghanaians to check their HIV status to complement government's agenda to eliminate the disease by 2030.
Government, over the years, has rolled out a number of measures aimed at curbing the spread of the virus as well as prolonging the lives of those infected.

Currently, some 316,000 Ghanaians are living with the virus.

Speaking in an interview with Class News' Jerry Akornoh, Acting Director-General of Ghana Aids Commission, Kyeremeh Atuahene, said Ghana has the right policies and programme in place to combat the disease.

He said: "It is our policy to eliminate Aids by 2030 and attain epidemic control by the year 2020. The problem we have as a people is that there is so much fear about HIV/AIDS, people are afraid to know their status because they think that it is deadly and probably they will be stigmatised.
"As a country under the leadership of Ghana Aids Commission working in partnership with the Ministry of Health, Ghana Health Service and its agency like the National Aids Control Programme, we have put in place the right policies and programmes to ensure that we prevent new infections, prevent Aids-related deaths, eliminate mother-to-child transmission and provide treatment and care to people living with HIV/Aids. We have about 316,000 people living with HIV currently in Ghana, and we're doing all we can to put all of them on antiretroviral treatment. In terms of policies and programmes, we have the right polices."

Mr Atuahene further revealed that the commission will launch a prevention coalition campaign which would involve opinion leaders, likes chiefs, to help the fight against HIV/Aids in the country.

"Very soon we are going to launch a prevention coalition campaign to focus more on prevention activities, and eminent people in the Ghanaian society are going to lead that process and we believe that will have very positive impact on the prevention interventions we are going to have in this country."