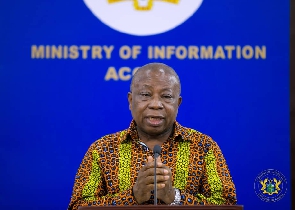 The Minister for Health, Kwaku Agyeman-Manu, has explained why there is a shortage of vaccines for children in Ghana.
At a press briefing in Accra on Tuesday, March 7, 2023, Agyeman-Manu said that the shortage of vaccines is not peculiar to Ghana.

According to him, vaccines are in short supply globally because of the COVID-19 pandemic, and this fact has been confirmed by the World Heath Organisation (WHO).

He explained that because of the COVID-19 pandemic, most vaccine manufacturing firms diverted their resources to the production of COVID-19 vaccines, which is now affecting the supply chain of vaccines for the immunization of children.

"… it is true we have had some vaccine shortages in the country since the last quarter of 2022. The vaccines in short supply are BCG, Measles-Rubella (MR), and Oral Polio Vaccine (OPV). This shortage is nationwide.

"The recent shortage in vaccines for measles, as regrettable as it is, is symptomatic of the steady global decline in measles vaccination since the beginning of the covid-19 pandemic," he said.

The minister also refuted assertions that the vaccine shortages are a result of the government owing arrears to suppliers.
He added that the government is doing all it can to remedy the current situation and that some vaccines will be brought into the country within a few weeks.

Agyeman-Manu also stated that no child has died as a result of the vaccine shortage.

Meanwhile, catch the latest GhanaWeb TV Election Desk interview with Francis Addai-Nimoh, as he discusses his plans to become the NPP's flagbearer, below:





IB/OGB