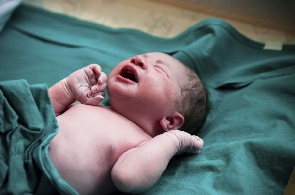 Wed, 1 Mar 2023 Source: GNA
Professor Fiifi Ofori-Acquah, Director of the Ghanaian Genome (GhGenome) project, has called on the Government to institute a national programme where every baby born in the country is screened for sickle cell diseases.
He said, "The reason we advocate screening of newborns for sickle cell is once you have been identified to have sickle cell, you can be given a medication to protect you from getting infections that can be fatal."

Professor Ofori-Acquah, who is also President of the Sickle Cell Foundation of Ghana, made the call when delivering a lecture dubbed: "The Ghanaian Genome," at the University for Development Studies (UDS) in Tamale.

The public lecture, which was to educate the public on genetics and the critical role, it played in health, wellbeing, and diseases, was attended by members of the University community, some traditional authorities, and students from second cycle institutions.

The (GhGenome) project is an initiative of the University of Ghana's West African Genetic Medicine Centre to improve access to all aspects of genetic health in the country.

Professor Ofori-Acquah bemoaned the fact that while genetic diseases were a problem in the country "It is sad we do not have a national screening programme for sickle cell diseases in the country. That is just not acceptable."
He spoke about the GhGenome project's awareness activities on the role genetics played in causing diseases that were currently attributed to many wrong factors.

He mentioned that the project was focused on four main areas, which included nationwide public lecture series on the Ghanaian genome, and free nationwide screening of genetic diseases in partnership with traditional leaders across the country specifically for sickle cell conditions as well as breast and prostate cancers.

The rest were the development of postgraduate genetics training programmes, and financial support to train citizens in genetic health professions, and sequencing of the DNA of 1,000 Ghanaian children with severe genetic disorders including sickle cell disease, cancer, and rare diseases.

He advised people to be aware of genetic disorders and take advantage of public screening events to get screened for them.

In a speech read on his behalf, Professor Seidu Al-Hassan, Vice-chancellor of UDS, said the genetic disorder situation in the country was serious, requiring the need for all to get screened especially when getting married.
 Meanwhile, the GhGenome project, as part of its awareness campaign to sensitise the public on genetics, has in collaboration with UDS, organised a free public health screening for residents of Tamale and Sagnarigu on sickle cell conditions as well as breast and prostate cancers.

 A total of 365 people comprising 174 children and 191 adults were screened at the event held at the forecourt of the palace of the Chief of Sagnarigu.

Dr Amma Benneh-Akwasi Kuma, Consultant Haematologist at the Korle-Bu Teaching Hospital, who coordinated the free public health screening exercise, said "For adults, some of the diseases we are encountering are those with increased high blood pressure. Some of them know about their situation but they sometimes forget to take their medicine. We have counselled them."

She added that "For others, this is the first time they have been told that their blood pressure is high. So, we have advised them to go to the nearest health facility for a check up and get treatment for it."  
Source: GNA