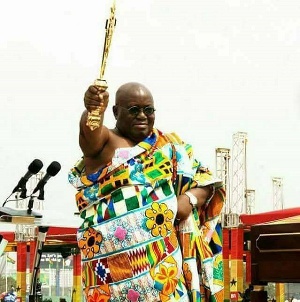 Tue, 10 Jan 2017 Source: GNA
The Executive Board and membership of the Ghana Physicians and Surgeons Foundation (GPSF) of North America has congratulated Nana Addo Dankwa Akufo-Addo on assuming office as the Fifth President of the Fourth Republic of Ghana.
A statement issued by the Board and copied to the Ghana News Agency said the GPSF was confident that President Akufo-Addo, by attaining the highest office of the land, would usher in an era of significant positive turnaround of the current state of healthcare delivery in Ghana.

"We are very hopeful and trust that you will appoint a knowledgeable and capable leadership in the healthcare sector who will work tirelessly to make healthcare accessible to Ghanaians from all walks of life and ultimately achieve the UN goal of Universal Health Coverage for all Ghanaians," it said.

The statement affirmed that the entire membership of the GPSF is committed to the vision of the President's Administration with regard to healthcare and looked forward to contributing to his success.
The GPSF is a Ghanaian member-based organisation of medical professionals in the U.S.A. and Canada with an interest in working towards improved healthcare in Ghana.

The GPSF works in close collaboration with the Ghana College of Physicians and Surgeons, other top medical institutions and the national medical regulatory bodies to help improve healthcare delivery in Ghana.

Through education, health service research, advocacy, support of academic medicine and improved communication networks, the mutual mission of the GPSF and the Ghana College of Physicians and Surgeons is to promote specialist training and professional development in Medicine, Surgery and related disciplines.
Source: GNA