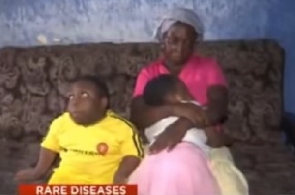 A 52-year-old petty trader, Grace Adobao, has to carry all her three teenage children on her back whenever they need to be mobile.
According to a report by GHOne TV, the three children of Grace all suffer from a rare disease, mucopolysaccharidosis type 4, which has impeded their mobility.

All three children, who are 20, 16 and 9 years old, have similar physical appearances. They have skeletal abnormalities, knock knees, a short stature as well as abnormalities in the chest and rips.

Narrating her order in an interview with GHOne TV, Grace said that her children are getting worse by the day. She said that her first child, the 20-year-old male, who previously could crawl, has now been confirmed to one place.

She said that she always has to carry her children to school and other places, adding that she is now afraid of what will happen to them when she can no longer carry them because she is getting older.

"They are getting worse and I am afraid that they will not be able to go to school at some point. Because I am not getting any younger and it will get to a point where I will not be able to carry them on my back," an anxious Grace said in Twi.
Friends of the second child, Desmond, who has been described as academically brilliant by his teachers, have now taken the task of taking him to school daily on a wheelchair.

The children pleaded with Ghanaians, who can afford it, to help them get the needed treatment.

Watch the GHOne report in the video below:



Meanwhile, catch the latest GhanaWeb TV Election Desk interview with Francis Addai-Nimoh, as he discusses his plans to become the NPP's flagbearer, below:




IB/OGB