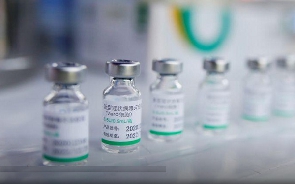 Mon, 27 Feb 2023 Source: GNA
A total of 79,268 persons in the Tema Metropolis have been fully vaccinated against Covid-19, Linda Adjapong, Disease Control Officer for the Tema Metropolitan Health Directorate has disclosed.
Linda Adjapong, presenting the data at the Health Directorate's Annual Performance Review, said the figure represented 50.2 percent of the total 158,059 eligible population of the metropolis.

She said 95,679 representing 60.5 percent of the eligible population have received at least one dose, while 2,175 adolescents have so far been vaccinated since the vaccination exercise started.

Giving a breakdown of the type of vaccines received, she said a total of 31,927 received the first dose of AstraZeneca while 26,216, and 4,197 were given the second dose and first booster, respectively.

She said 16,206 people also received the first dose of Pfizer, while 10,417 had two doses.

Other vaccines used in the metropolis were J&J having 36,441 first doses, 691 first boosters, and 17-second boosters.
Data for Moderna, Linda Adjapong said 10,995 people had the first dose and 6,126 had the second dose, while for the Sputnik vaccine, 110 people had the first dose and 98 had the second dose.

Touching on the number of people experiencing adverse effects after taking the vaccines, she said a total of 155 of such reports were recorded out of which two were classified as serious and 153 as non-serious.

Seventy-nine of those vaccinated with Moderna reported adverse effects, 57 for Pfizer, 12 for AstraZeneca, and seven for J&J.

She said the was no recorded cases of Sputnik side effect.

The Disease Control Officer said covid was still around, but the vaccination has reduced its effect and appealed to those who had not been vaccinated to do so.
Source: GNA