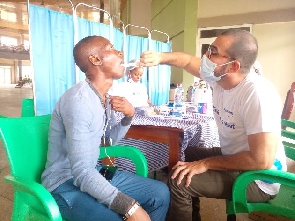 Tue, 4 Apr 2023 Source: GNA
Dr. Mensah Tabi-Amankwa, a Dentist at the International Maritime Hospital (IMaH), has warned the public against using mouthwash as a substitute for brushing their teeth.
According to Dr. Tabi-Amankwa, mouthwash was only a supplement to get the germs out of the mouth, stressing that, "mouthwash can eliminate some bacteria and make the mouth smell nice, but it does not remove food particles.

Dr. Tabi-Amankwa stated in the weekly, "Your Health! Our Collective Responsibility," A Ghana News Agency Tema Regional Office," is an initiative aimed at promoting communication of health-related and setting the medium for the propagation of health information to influence personal health choices by improving health literacy.

Speaking on the topic; of "Oral Health," the IMaH Dentist asked the public to develop the habit of brushing their teeth twice a day, to help remove all food particles, and to seek expert care at a hospital at least twice a year.

Dr Tabi-Amankwa recommended the public to always add fluoride toothpaste to either chewing sponges and sticks if they chose to use them instead of toothbrushes.
He advised against brushing the teeth in an upward and downward manner because it traumatizes the gums, erodes their protective layer, and does not remove all food particles from the teeth.

The IMaH Dentists advised that brushing the teeth should be done circularly at a 45-degree angle, allowing the brush to reach between the surface and the space for adequately cleaning teeth.

He also advised against using hard toothbrushes because they remove the enamel and harm the gum tissues, instead suggested a medium to soft brush for brushing.
Source: GNA