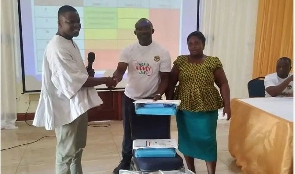 Tue, 14 Mar 2023 Source: GNA
Dr Robert Doh, a Parliamentary aspirant of the National Democratic Congress (NDC) in the Ho Central Constituency has presented some health equipment to the Ho Teaching Hospital in the Volta region worth Gh¢12,000.00.
The items included central venous lines, femoral artery catheters, foley catheters, chest tubes, pneumothorax kit, and gloves and were aimed to help the hospital to deliver quality healthcare to the people.

Dr Doh told Ghana News Agency in an interview that he had a vision and plan for medical service and excellence for Ho Central and the Volta region at large.

The Parliamentary aspirant said health facilities would be able to deliver quality, effective and timely services to their clients if they had adequate equipment.

He said plans were underway to engage hospitals outside the country in exchange programmes with the Ho Teaching Hospital as a way of boosting and offering some form of support to the hospital in its operations.
Dr Doh said the donation was in memory of his friend's daughter who lost her life at the hospital due to kidney disease and that the gesture would continue sometimes.

The Parliamentary aspirant said the life of the lady would have been saved if the condition was to be detected early, and therefore, advised the citizenry to visit health facilities for regular checkups.

Professor Yaw Asante Awuku, Head of Medicine at the Ho Teaching Hospital, thanked Dr Doh for the gesture and assured him that the items would be used well.

He called on benevolent individuals and organisations to emulate the gesture of Dr Doh and support the hospital in its quest to deliver quality services to the people.
Source: GNA