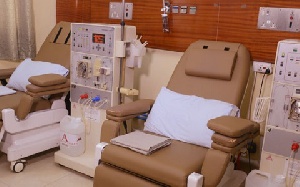 Brong Ahafo Regional Health Director, Dr Kofi Issah, has revealed that there is no dialysis centre in that part of the country.
Dr Issah said if patients suffer from kidney problems, they have to be transferred to other parts of the country that have dialysis centres for treatment.

The Regional Health Director, however, indicated that efforts are being made to secure a fully furnished centre in the region for dialysis procedures.
"We don't have a dialysis centre," Dr Issah told Chief Jerry Forson on Ghana Yensom on Accra100.5FM, Friday, 13 July.

He added: "We are trying to acquire one. Some philanthropists are trying to get us one."