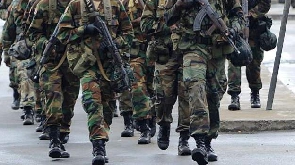 Mon, 1 May 2023 Source: GNA
A Prostate Cancer Early Detection Project has been launched to improve prostate cancer diagnosis, care and management for men aged 40 years and above in the Ghana Armed Forces.
The project, initiated by Janssen Pharmaceutical Company of Johnson and Johnson in partnership with the Ghana Armed Forces, aims at increasing awareness, screening, early detection and treatment of prostate cancer to ensure the survival of patients.

Mr Henry Osei-Agyekum, Country Manager of Janssen who was speaking at the project launch in Accra, said the project would build the capacity of health promotion and medical officers at 24 selected military installations across the country to screen more patients and increase early detection of the disease.

He said a total of 2500 semi-quantitative Prostate Specific Antigen (PSA) test kits for screening had been procured under the project to screen 2500 servicemen across the country.

Mr Osei-Agyekum said that would help reduce prostate cancer deaths among servicemen.

"Once we can detect prostate cancer early and bring the diagnosed patients into care, they have a greater chance of being treated, and their quality of life will be drastically improved," he said.
The Country Manager of Janssen said the project launch was a great example of how public-private partnerships could address the unmet needs of patients and strengthen healthcare systems in Ghana.

He said 50 medical officers and 34 health promotion officers would be trained to perform digital rectal examinations to support the screening and early diagnostic activities across the country.

Vice Admiral Seth Amoama, Chief of the Defense Staff, said "Prostate Cancer when detected early can potentially be cured, unfortunately in our context, most cases are diagnosed late due to a low prostate cancer disease awareness among the population," he said.

He said the project would ensure a comprehensive uptake of prostate cancer management bills to overcome the" Out-of-Pocket" hurdle.

The Chief of Defense Staff said the project was in line with the national strategy for cancer control as well as the National Policy for the Prevention and Control of Chronic Non-Communicable Diseases.
Source: GNA