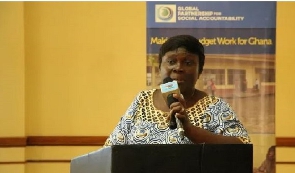 Research by Send Ghana, a policy research and advocacy civil society, has revealed weaknesses in budget credibility for immunization in the country. The trend, which it says has a negative impact on immunization services in the country, was attributed to delays in the allocation and release of funds.
Senior Programmes Officer of Send Ghana, Harriet Nuamah Agyemang, who revealed this at a National Stakeholders Dialogue on its Monitoring findings in Accra said the government is reneging on the commitment to immunization and challenged the Ministry of Finance to create a separate budget line purposely for the allocation of funds for immunization.

Send Ghana, is a policy research and advocacy civil society organization supporting the grassroots with skills to hold public officers accountable. Together with its partners such as UNICEF and International Budget Partnership, the monitoring was carried out in five districts. This included Asuogyaman, Ho, Shai -Osudoku, Tatale/ Sanguli and Kassena Nankana and the Ghana Health Service at the national level to assess the financial commitments for immunization. The research hinged on thematic areas such as adequacy of allocation, adequacy of receipts, timeliness of release and disbursement of funds. Senior programs Officer, Send Ghana, Harriet Nuamah Agyemang, said the government should deliberately increase allocation and release funds as Ghana prepares to wean itself off donor support. She said in doing so, the government will uphold budget credibility.

Madam Nuamah Agyeman said although Ghana is doing well with 98 percent coverage which even surpasses the international benchmark, there is more work to be done.
Social Policy Specialist UNICEF Ghana, Charles Dzradosi, was worried about over-expenditure in some sectors at the detriment of immunization. He asked the government to focus its energies on finding out what is causing such development.

Routine immunization is one key health intervention to avoid preventable diseases globally. It is the reason 'Send Ghana' and its partners want the government to commit more finances to ensure the well-being of citizens.