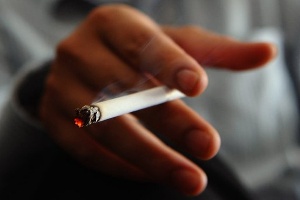 Mon, 29 Feb 2016 Source: GNA
Civil Society Organisations (CSOs) interested in tobacco control have called for the immediate passage of the Legislative Instruments (LIs) of the Part Six of the Public Health Act, 2012 (Act 851).
They said the passage of the LIs were long over-due, adding that; "we need to quickly play catch-up to save many of our youth from dying from tobacco-related diseases."

The Public Health Act of which the Part Six – Tobacco Control Measures, was in 2012 passed into law by Parliament, prohibits smoking in public places.

Mr Oscar Bruce, a member of the Coalition on the Tobacco Control Legislation (CTCL) who read a statement on behalf of the partners at a forum in Accra, said the delay in adopting the tobacco regulations are hindering the implementation of the laws.

He said tobacco use, especially cigarette smoking has harmed and killed many people ever since the practice started.

"By 1995, it was killing some three million people every year and this led to the idea of putting in place structures to bring an end to the carnage, and the Framework Convention on Tobacco Control (FCTC) was initiated and was adopted by the World Health Organisation," he said.
He said Ghana was among the first few countries to ratify the FCTC and through the efforts of civil society and other stakeholders the Public Health Act was passed.

"As you are all aware, a law can only be effectively implemented after Legislative Instruments have been passed by Parliament to accompany it.

"Thus, civil society and other stakeholders worked hard, just after Act 851 was passed, to draft such instruments and it will surprise all of you to know that about four years after they were drawn up these LIs are still waiting to be passed by Parliament.

Mr Bruce said this state of affairs was unfortunate because without the LIs it would be almost impossible to get people to comply with the provisions of the Tobacco Control Measures.

Mrs Olivia Agyekumwaa Boateng, Head of Tobacco and Substances Abuse Department of the Foods and Drugs Authority (FDA), said the LIs were presented to Parliament last year, but they were sent back to the Ministry of Health (MoH) for fine-turning.
She said the FDA, the Ghana Health Service, the MoH and the Attorney General Department are still working on the LIs, but could not give a timeline of their passage.

She urged the CSOs to continue with their advocacy role of educating the populace on the harmful effects of tobacco use.

Dr Akwasi Osei, Medical Director at the Accra Psychiatric Hospital and the Chairman of the occasion, called on health authorities to expedite action on the passage of the regulations to strengthen the hands of Ghanaians to cause the arrest of smokers at public places.
Source: GNA