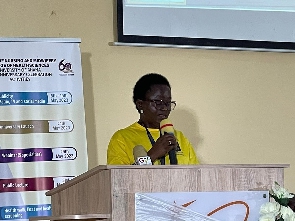 The School of Nursing and Midwifery at the University of Ghana-Legon has launched its 60th-anniversary celebration under the theme "Resilience in Developing Nursing and Midwifery Workforce: Embracing Technology and Promoting Excellence."
The milestone event highlights the school's dedication to adapting to changing healthcare needs and fostering excellence in nursing and midwifery.

During her address at the anniversary celebration, the Dean of the School of Nursing and Midwifery, Professor Florence Naab, called for support to expand the school's infrastructure and acquire buses for transporting students to various hospitals for practical training.

She expressed concern about the overpopulation of nursing students in the same building that previously accommodated a much smaller number. According to her, the need for additional buildings, and transportation facilities have become crucial.

"Some of our challenges are that, you know at sixty, the building that was housing people, students, and faculty who were only twenty and ten is the same building that is housing students who are over seven hundred and faculty members who are over thirty, and so our building is old, we need more buildings," Professor Naab emphasized.

Furthermore, she highlighted the significance of practical training and the importance of nurses working with their hands.
Professor Naab stressed the need for buses to transport students from the campus to various hospitals, enabling them to gain hands-on experience.

"The current fleet of buses is outdated and requires replacement," she added.

Echoing these sentiments, the guest speaker for the occasion, Dr. Abigail Kyei, Head of the Department of Nursing and Midwifery at Pentecost University, emphasized the importance of technological advancements in nursing education. Dr. Kyei appealed for the acquisition of modern technological tools and machines that would enhance practical training for the students.

She highlighted the benefits of using such tools, especially in midwifery training, where learners can make mistakes and learn from them without compromising patient safety.

"We need a lot of technological materials to help teach them. Examples are like learning how to become a midwife and having technological machines to learn from that helps... so all mistakes will be done on such machines before attending to individuals," Dr. Kyei explained.




You can also watch the latest episode of People & Places:




Meanwhile, watch the latest episode of SayItLoud on GhanaWeb TV below:








AM/GA