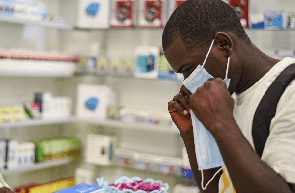 The Ghana Meteorological Agency has issued some precautionary measures for the public amidst the prevailing weather conditions in the country.
In a statement issued on Monday, 20 February 2023, the Meteorological Agency said it had observed high-pressured systems around the Northern Regions of Africa, "which were projected to stir up dust over the dust source region."

Consequently, "meteorological satellites detected dust lifted around Chad, Sudan, and Niger. This dust was transported into the country by strong winds at lower levels of the atmosphere."

The agency noted that: "As a result, an intensification of dry and dusty weather conditions was expected to be experienced in Ghana during the week as issued in the GMet weekly and daily forecasts."
According to the agency, "this has resulted in dryness and decreased visibility, which may take some time to clear completely. Relative humidity, over the period, has ranged between 15% and 50% with visibility range of 200 meters to 5,000 meters.

"These conditions are expected to persist at varying intensities over the next few days. However, it is expected that there will be a relaxation in the intensity during the week and consequently."

"Keep hydrated, Follow fire safety precautions, cover foods/water to prevent dust from settling on them, wash fruits thoroughly before taking them, people allergic to dust are to wear nose masks to reduce the effect on them," the agency advised the general public.