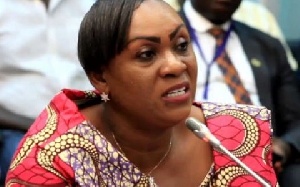 Minister of Special Initiatives, Mavis Hawa Koomson, has chided former President John Dramani Mahama over the allocation of every constituency with one million dollars comment.
According to her, the former President is aware that since the one million dollars to every constituency is not a statutory fund it could definitely expire with the budget so there was no need for him to make such comment.

Former President John Dramani Mahama has expressed shock over what he describes as claims by the Akufo-Addo government that the promised one million dollars per constituency allocation for 2017 expired with the 2017 budget.

He asked: "Have you ever seen one million dollars expiring?" I am aware that rice has expiry date, oil has expiry date and other commodities, but one million dollars has no expiry date" former President Mahama stated.

However, speaking to otecfmghana.com on Thursday, October 11, 2018, Member of Parliament for Awutu Senya East, Mavis Hawa Koomson stated that she wonder how the former President could make a such comment.
She explained that the allocation of every constituency with one million dollars was not utilized in 2017 because there was no law backing it.

"Since there was no law backing the one million dollars to every constituency the minority could drag us to court if the money was utilized that is why it is not been utilized in this year. So I don't know the reason why the former President should make that comment, what I am saying is that if he want to do campaign for his people to vote him as the flagbearer he should go ahead but for now he should wait and if the campaign time is due we will continue from there" Mrs. Koomson stated.

The Minister recounted there was a wrong perception by many people that the one million dollar per constituency was money that will be given to the various constituencies for their development projects.

She explained the money was to be used for specific projects under the IPEP to address certain needs of the constituencies. "Under IPEP, each of the 275 constituencies has been allocated the cedi equivalent of one million United States dollars this year to be invested in infrastructure development" she stressed.