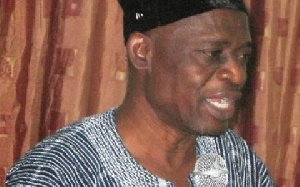 Deputy Northern Regional Minister and Member of Parliament for Sagnarigu, Alhaji A.B.A Fuseini, has said the opposition NPP flag bearer's campaign promise of building one dam per farming village in all three regions in the north has opened politicians up to public ridicule.
Just like his 1-Factory-1-District policy, Nana Akufo-Addo's latest promise has been met with scepticism by the governing National Democratic Congress and a cross-section of Ghanaians.

Speaking on Inside Politics on Class91.3FM on Wednesday, August 30, Alhaji Fuseini said the NPP flag bearer must guard against the attempt to sway Ghanaians with his campaign promises.

"There are certain areas in the north where the water table is so deep and in some areas the soil is so porous that even when you are constructing dams, there is no clay to be able to hold the water. So, if you go to those areas and say you will build dams, what happens is that as a result of the porous state of the soil and the high evapotranspiration rate in those areas your plans will not be realised," the lawmaker told host Moro Awudu.
"You have not even done any serious feasibility to determine whether all the villages even have the capacity to be able to sustain water in the dams throughout the period. These are very serious national issues so we should not trivialise them and come out to say 'one village one dam'. …There are even areas that if the water table is high enough, boreholes can be used for irrigation. In those areas, you will see that dams may not be needed. You will need boreholes and that can help the people in their agricultural activities to step up productivity. …So this should be a well thought-through policy. It is not out of desperation then you just get up and say 'one- district, one-factory' and now you are saying one-dam, one- village'. Some of these pronouncements, they tend to trivialise politics and expose politicians to ridicule."

However, Deputy Director of Communication for the NPP, Anthony Karbo, said the party had done enough feasibility studies on the policy.

He said: "There is no village in the three…regions [in the North] where…a baseline survey hasn't been done. Through the University of Development Studies trimester field practical programme, all these baseline surveys have been done. As I speak to you, the Savannah Research Institute has conducted extensive work on what needs to be done to revolutionise agriculture in the three…regions [in the North] and in those production zones…"