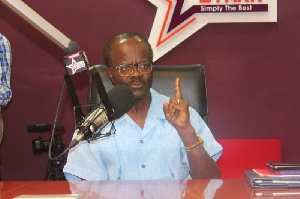 The 2016 Presidential candidate of the Progressive People's Party, Dr. Papa Kwesi Nduom has predicted that 2016 presidential elections will head into a second round unlike 2012.
President Mahama won the 2012 elections in a one-touch victory but Dr. Nduom says he is convinced that his party would become a major force in this year's elections which will go into a run-off.

"Absolutely, [the elections] will go into a second round," Dr. Nduom told host of Starr Chat Bola Ray Wednesday adding "I am sure that if we get our things right there will be three pots and we will figure out at the end which three would move up."

"The NDC doesn't have the good will to win...the NPP is also not as strongly organized to be able to say we are going to go and do our one shot deal, we know we have to grow, we know we have to work so we are working so we can compete," Dr, Nduom added.

Dr. Nduom also added that he is confident that with hard work, he can lead the PPP to wrestle power from the Mahama-led administration.

According to Dr. Nduom, whose companies employ over 5000 workers across the country stated that both John Mahama and NPP flagbearer Nana Addo Dankwa Akufo-Addo are not fit to lead the country and urged Ghanaians to vote massively for him.
Profile of Dr. Nduom

Dr. Nduom was born on February 15, 1953 at Elmina in the Central region of Ghana. He had his secondary education at the St. Augustine's College in Cape Coast, where he obtained both the General Certificate of Education (GCE) Ordinary and Advanced Levels.

He proceeded to the United States where he obtained a Bachelor of Arts (Economics) degree at the University of Wisconsin.

He is the President and chairman of Groupe Nduom, a conglomerate which employs thousands of people.

He is a former cabinet minister and now the flagbearer of the Progressive People's Party, a party he founded by himself and likeminded people.