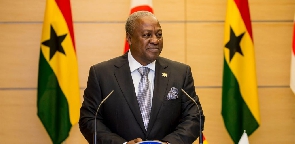 Former President John Dramani Mahama says the 2024 elections is going to be no playground for any political party adding, the NDC would be ready.
Reaching out to delegates of the National Democratic Congress (NDC) at Dormaa East on Monday, March 13 as part of his campaign to be elected flagbearer of the NDC, he urged supporters of the party to be extra vigilant in the next general election to ensure victory for the party.

"Open your eyes at the polling stations like eagles," he said.
"We know that you all have children who have been educated, we want you to release them to us so that we train them five times before we vote. This 2024 election is not a joke, it is boot to boot, it is do-or-die," he added.