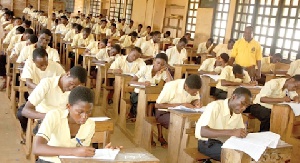 President John Dramani Mahama has said that government will expand the number of students who are to enjoy the progressively free Senior High School policy.
He revealed that an additional "120,000 boarding students" have been earmarked for the programme, which will increase "the total number of students in Senior High Schools enjoying progressively free Senior High School education to almost half a million Ghanaian students".

Mr Mahama made the announcement when he addressed the chiefs and people of Agona Abodom in the Central Region on Monday September 5 when he inaugurated the newly built community SHS in the area.

The president indicated that the new school and its facilities will afford students in the community the opportunity to enjoy high-standard education as their peers in schools in the cities.
Mr Mahama also disclosed that the headmaster and management of the school will be given a Pick-up vehicle to held their day-to-day running of the school.f

A school bus was also donated to the school as part of a programme initiated by government, which will see to it that all the Community Day SHSs receive a bus each. So far the government says 123 of the schools are at different stages of completion. Mr Mahama promised to construct 200 of them ahead of the 2012 elections. A few have been inaugurated ahead of the December polls.