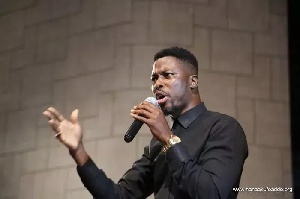 Controversial hiplife Musician, A-Plus has disclosed most of his friends are members of the opposition National Democratic Congress (NDC).
A-Plus told KOD on The Zone on Monday, September 25  that despite his affiliation with the ruling New Patriotic Party (NPP),  90% of his friends are from the opposition side.

"I'm a member of the NPP and I became a member because of the love for President Akufo-Addo. I'm a strong NPP member. I believe the NPP way of governance but 90 percent of my friends are NDC, most of the people I call to go and sit down and eat 'omo Tuo' are NDC people. The fact that I belong to NPP doesn't mean we are enemies, we talk, eat, chat and do a lot together".

Asked if he could have easily become an NDC member considering his closeness with  former President Mahama, A-Plus said he doesn't like his governance and party, but he likes the people in the NDC.
"I don't like his way of governance and the party, however, I like the people; Chief Biney, Captain Akamba are my very good friends, we have to be able to separate politics and relationship with people. I don't like your party, I will never vote for you but I like the way you relate to people, every party has their belief and I believe in the NPP way of governance".

A-Plus had his white wedding with his wife, Violet N.A Bannerman popularly known as Akosua Vee over the weekend.