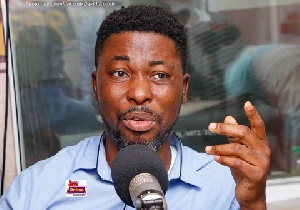 Maverick musician and supporter of the governing New Patriotic Party (NPP), Kwame Obeng Asare otherwise known as A-Plus has incurred the wrath of some party leaders following his recent outburst and leveling of corruption allegations against some of them.
NPP's Brong Ahafo First Vice Chairman, Mathias Owusu Kwame Baffoe alias Abronye DC who is already not in the good books of the musician after they fell off sometime back last year, has described A Plus as a "greedy wizard".

"No greedy person can say he isn't a witch or wizard. I'm therefore firmly making it plain on your station that A Plus is a wizard because he is greedy". He told Abusua Fm in Kumasi on the station's morning show hosted by Kwame Adinkra monitored by MyNewsGH.com.

You can't justify a greedy person as not being a wizard, you can't and no man of God can challenge that a greedy person is not a wizard", he insisted.

A Plus last week took to Facebook castigating some appointees of the government and impugning they were corrupt in the wake of some deals that had generated a public outcry and characterized by controversies.

Referring to this Facebook post, however, Abronye described him as a liar because he A Plus had earlier denied the corruption allegation saying people did not understand his comments when he first accused some appointees of being corrupt.


Expatiating his argument, he said since the New Patriotic Party came into power, A Plus wants to get contracts from every department in the country to cruise in the best cars on the streets of Accra for people to say he is indeed a rich guy.

"Therefore anytime he (A Pus) is refused a contact at a department, he turns back and charges heads of those departments as corrupt. A Plus did not contribute to the campaign of the NPP" he added

Abronye further dared the "Aben Be Bom" hitmaker to come out and tell the public if indeed he had had any contract from the NPP government or otherwise.

"You began insulting people after you had a contract at BOST complaining you have not been given anything", Abronye fumed.