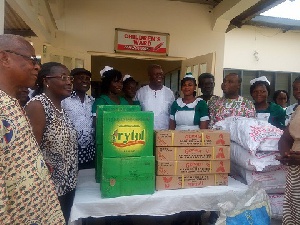 Wed, 27 Dec 2017 Source: Maxwell Okamafo Addo
Former Vice President Kwesi Amissah-Arthur has spoken on the candidature of who leads the NDC Presidential race.
The former Vice President, made the statement on Christmas Day, 25th December, 2017 in Ho. He spoke to the media after making some donations to children on admission at the Ho Regional and Municipal Hospitals with his wife, Matilda Amissah –Arthur.

Speaking to the press as to whether he will contest the NDC Presidential race, he said a leader will come from a reorganized party but not a leader imposed on a party that is disorganized. Adding that a reorganized party at the branch level will elect a leader who represents the best interest of Ghana.

He said currently he's not thinking about that because the NDC is not ready yet in choosing who leads the party in 2020.

He said, "We are not yet there... don't know why people are so interested in candidature and leadership."
Mr Amissah–Arthur said what he spends his time doing out of Government is analyzing what they could have done better looking at the present national situation.

And also deciding on what they can do to move this country forward. The former Vice President of the country further stated that currently they are critically looking at policies and programs that would move this country forward from where it is now.

Mr Amissah-Arthur stressed that a lot of people are disappointed in where this country is being taken hence their search for an alternative that will provide better results for Ghanaians to be happy.

He said the NDC is currently reorganizing the party to make it stronger and become a voice that reflects the mood of the people.
Source: Maxwell Okamafo Addo