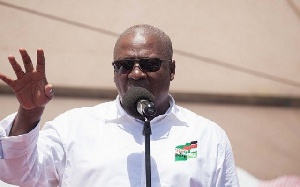 A former Deputy Speaker of Parliament, Ken Dzirasah, has entreated former President John Dramani Mahama to shelve his plans of leading the opposition National Democratic Congress (NDC) into the 2020 polls.
The former legislator is of the view that the NDC needs a fresh leader in order to wrestle power from the governing New Patriotic Party (NPP).

"When you're at war and you provide your best arsenals and you've the opportunity of fighting that war and you lose the war, conventional wisdom requires that you retreat, go and serve as an expert general [and] advise the younger ones to go ahead. You don't show your face again…," he said in an interview with Accra-based Joy FM.

In his view Mr Mahama need not come back "and contest with subordinates, individuals that you have signed their appointment letter and appointed them ministers; now they're rubbing shoulders with you."

For him, if any of Mr Mahama's underlings succeed in defeating him for the flag bearer position, that could be "too much of a humiliation".
He was concerned that supporters of Mr Mahama are not assessing the situation but rather going on "rampage [and] calling anybody who comments a little against the bid of John Mahama for a second term" names.

He condemned insults hurled at individuals who have opposing views to the supporters of Mr Mahama and called on the former President "to bring order and discipline to his followership."

"The more they insult, the more they are alienating prospective supporters of him (Mr Mahama) from following him," he added.