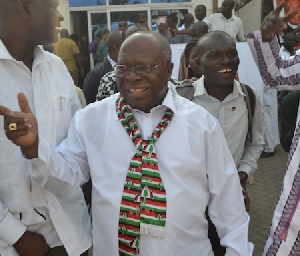 Tue, 2 Dec 2014 Source: Office of Abodakpi
Dan Abodakpi, aspiring Chairman of the National Democratic Congress (NDC) has secured the first spot on the ballot paper, describing it as a sign of his victory at the party's upcoming congress.
After the balloting exercise held at the party's headquarters in Accra on Today, Tuesday December 2, after a successful vetting of the four chairmanship aspirants, Mr. Abodakpi picked the number one spot on the ballot, followed by Mr. Kofi Portuphy, Alhaji Huudu Yahaya and Dr. Kwabena Adjei, the incumbent.

"The number one position is the hand of God at work," Mr. Abodakpi told journalists after the balloting exercise.

According to him, victory is at hand, and that the outcome of the December 20 congress would only be a manifestation of what God has already approved.

He urged the delegates to offer him the full support to let victory materialize at the Congress, adding that his victory would be the victory of the entire NDC because he stands for a change and progress.
Asked why he believes the current executive, described by sections of the party as a winning team, Mr. Abodakpi said it was wrong to describe the incumbent executive as the winning team.

"The real winning team of the NDC is the grassroot people who worked and sacrificed for the victory of the party, and not those in leadership positions.

These are the people who have been neglected for far too long," he said, adding that him mission is to reconnect the party to its mass base.

Touching on the vetting process, Mr. Abodakpi noted that process was very transparent, and commended the vetting committee for a thorough process.
Source: Office of Abodakpi