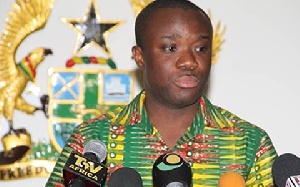 Wed, 14 Oct 2015 Source: GNA
The government has received high marks for the massive investment in education, water and roads in the Adansi South District.
Mr. Benjamin Anhwere, the District Chief Executive (DCE), cited the construction of dormitories for both the boys and girls at the New Edubiase and Akrofuom senior high schools (SHS).

Additionally, it was building a Community Day SHS at Adansi-Apagya, a project which was nearing completion.

Speaking at the formal inauguration of the 60-member district assembly, Mr. Anhwere said the area had seen remarkable improvement of some major cocoa roads, adding that, the Edubiase town roads had also been tarred.

The other significant intervention was the Edubiase water project to assure residents of the district capital of uninterrupted safe drinking water.

Again, there was the free distribution of cocoa farming inputs – fertilizers and improved seedlings to farmers.
The DCE said that there was no doubt that the area had received its share of development for which they should have reason to be grateful to the Mahama Administration.

A Deputy Communication Minister, Mr. Felix Kwakye Ofosu, applauded the mutual understanding, cooperation and unity among the key political actors – the DCE, Members of Parliament, chiefs, assembly members and the departmental heads and said that must be sustained.

He encouraged the assembly to put premium on job creation and spoke of efforts the Local Government and Rural Development Ministry was making to promote the growth of small and medium scale enterprises.

The goal was to stimulate local economic development to open employment opportunities for the youth.

Mr. Ofosu reminded the members to "work towards a diversified and commercially-oriented agricultural sector with strong linkages with processing, industrial and market oriented sector".
Source: GNA