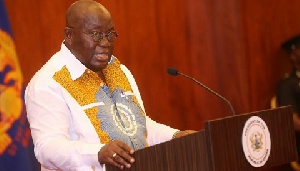 Government has denied sponsoring some media houses to orchestrate lies and spread falsehood against former president John Dramani Mahama.
A statement signed by Minister of Information, Mustapha Hamid, said "President Akufo-Addo holds all former Presidents of the Republic in high regard, and will continue to treat all of them with dignity and respect, as he has consistently demonstrated since assuming the high office of President of the Republic."

Government's reaction comes on the heels of a statement by, Joyce Bawa Mogtari, special aide to Mr Mahama, accusing Nana Akufo-Addo of sponsoring Daily Guide and Statesman newspapers to publish lies about the former president.

Below is the full statement:

STATEMENT IN REACTION TO MALICIOUS PUBLICATIONS AGAINST H.E. THE FORMER PRESIDENT

Government has taken note of a press statement signed by Joyce Bawah Mogtari, Special Aide to former President John Mahama, and dated January 25, 2018. The statement purports to react to "malicious publications against H.E. the former President".
Rather, the statement makes a number of baseless allegations against the government and person of the President of the Republic, Nana Addo Dankwa Akufo-Addo. Government responds as follows:

1. That, Daily Guide and Daily Statesman are NOT "government sponsored" newspapers. These newspapers have existed for many years, and the ownership of these papers is a matter of public record. Their general stance on political issues is also well known, predating the Akufo-Addo government.

2. That, to proceed on that false premise to attack the President is disingenuous.

3. To specifically allege that President Akufo-Addo is "orchestrating attacks" on the person of the former President "based on lies and pedestrian propaganda" without proof or evidence is unbefitting of a spokesperson of a former President.

4. President Akufo-Addo is busy fixing the mess and rot that was bequeathed to him by the Mahama government, and, therefore, does not have the luxury of time to indulge in orchestrations of lies and propaganda
5. That it is curious for the spokesperson of the former President to be issuing a statement denying that he is attacking the Free SHS programme, whilst that very same statement seeks to disparage the programme.

It is interesting that it is the spokesperson of former President Mahama who is urging Ghanaians to demand from the Akufo-Addo government "an improvement from the poor-governance it is serving this country." We wish, in answer, to recall the words of the Vice President of the Republic, Alhaji Dr. Mahamudu Bawumia, in his address at the New Year School, at Legon, when he stated:

"The question that we should ask is how can you inherit a budget deficit of 9.3% of GDP, proceed to reduce taxes, bring down inflation, bring down interest rates, increase economic growth (from 3.6% to 7.9%), increase your international reserves, maintain relative exchange rate stability, reduce the debt to GDP ratio and the rate of debt accumulation, pay almost half of arrears inherited, stay current on obligations to statutory funds, restore teacher and nursing training allowances, double the capitation grant, implement free senior high school education and yet still be able to reduce the fiscal deficit from 9.3% to an estimated 5.6% of GDP? Quite simple, this is a remarkable achievement and this is what we mean by competent economic management."

We wish to reiterate that President Akufo-Addo holds all former Presidents of the Republic in high regard, and will continue to treat all of them with dignity and respect, as he has consistently demonstrated since assuming the high office of President of the Republic.

……signed……
Mustapha Abdul-Hamid

Minister for Information