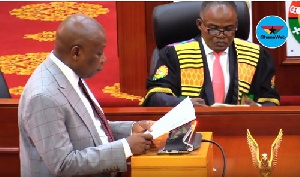 Health Minister Kwaku Agyemang Manu had to run for his life at Ajumako in the Central region as irate NDC supporters pelted him with stones as he commissioned a project that was undertaken by the erstwhile Mahama administration.
The minister who was there to inaugurate a health facility in the area was momentarily stopped from doing so as the supporters claimed it was not the government that constructed the facility and so will not allow him to commission it.

It took the intervention of the member of parliament of area Cassiel Ato Forson to calm nerves for the commissioning process to continue later.

The police who had been brought in to maintain calm were helpless as the number of the NDC supporters overshadowed them.

The furious Minister could not hide his frustration as he hit back at the NDC supporters, who in the melee, even attacked some journalists who were covering the event.
He told them to refrain from taking to violence in resolving conflict as it would not yield healthy results.

" I think democracy is yet to be understood here. Ato Forson is my friend and brother, when we meet in Parliament we make fun and after elections, we are done with the needless banter. Are you people saying we should just leave the project hanging? even if the former administration paid for the project, we also supervised its completion. So we must understand that governance is a continuous process.

" I have been opening hospitals since yesterday and everywhere I go we give credit to the former president because the president says he will continue every project that was started by the Mahama administration. If you are not careful what happened at the Tamale hospital will happen here," he lamented.