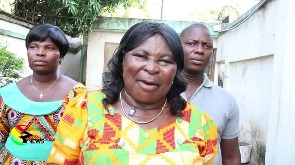 Founder of the Ghana Freedom Party (GFP) Akua Donkor has said she is heading to the International Court of Justice over the violation of her human rights, following the dismissal of her case against President Nana Addo Dankwa Akufo-Addo.
Her suit sought the removal of the President, Nana Addo Dankwa Akufo-Addo, and his Vice President, Dr Mahamudu Bawumia, from office after their names popped up in an investigative documentary.

The case was thrown out by the Supreme Court and she was subsequently ordered to pay an amount of GH¢10,000.00 to the state.

Madam Akua Donkor dragged the Attorney-General to the Supreme Court asking for President Akufo-Addo and Vice-President Bawumia to step aside after their names were mentioned in Anas Aremeyaw Anas's 'Number 12' investigative piece, which captured corruption in Ghana sports.

The writ was filed on June 20, 2018 but on Wednesday, November 27, 2019, the apex court threw out the case and slapped her with the fine.

Reacting to the ruling on Onua FM's Yen Sempa on Thursday, the GFP founder said in Twi "I will head to the International Court".
She explained how the court date for the final decision on her matter was fixed for November 13, 2019 but on that day, she got to the court and the Judicial Service staff were on strike and as such there was no proceeding.

Madam Donkor noted that no other date was given to her at the court until she heard in the news that the case had been called and that she had been fined.

Will she pay the fine?

When asked if she would pay the fine to the state, the outspoken presidential aspirant said in Twi: "If I pay the amount, it means I have accepted the ruling. I don't accept the ruling so I will not pay and I am preparing my documents now to go to the International Court."