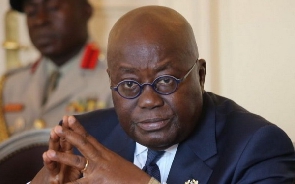 A political activist and analyst, Kwaku Adu-Gyamfi, has expressed concerns about President Nana Addo Dankwa Akufo-Addo's focus on building strong individuals loyal to him rather than strengthening institutions in the country.
Mr Adu-Gyamfi believes that the President's approach empowers individuals who remain loyal to him within the government, potentially allowing him to maintain influence even after leaving office.

Mr Adu-Gyamfi made this revelation while speaking on The Citizen Show on Accra 100.5 FM hosted by Nana Ama Agyarko on Friday, September 1, 2023.

He argues that this strategy has had repercussions for the campaign of former Trade and Industry Minister, Alan Kyerematen, as many of his loyalists have shifted their allegiance to the President.

This strategy he revealed is making the campaign of Mr Kyeremateng suffer a jolt when he is supposed to be leader of the party after the exit of Nana Addo

Mr Adu-Gyamfi cites examples such as Dr. Mustapha Hamid, CEO of the National Petroleum Authority; Samuel Abu Jinapor, Minister of Land and Natural Resources; Asenso Boakye, Minister of Works and Housing; Madam Ursula Owusu, Minister of Communications; and Yoni Kulendi, a Supreme Court judge.
These individuals started their political careers working closely with the President during his time as an opposition leader and today they are powerful people in government, he said.

Mr Adu-Gyamfi emphasizes that these individuals, who have grown to hold powerful positions in the administration, remain fiercely loyal to the President.

He suggests that some may have encountered legal issues, but the President continues to shield them due to their unwavering loyalty. According to Adu-Gyamfi, the President's approach involves grooming and supporting these individuals, including paying their law school fees, which fosters their loyalty.

This loyalty, in turn, gives the President significant influence over them. Mr Adu-Gyamfi is concerned about the President's style of building the capacity of these individuals and making them more powerful than state institutions.

He views this approach as potentially detrimental to the country's governance and institutions.