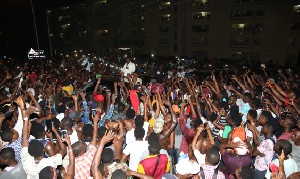 The New Patriotic Party's presidential candidate, Nana Akuffo Addo, has promised to complete the second phase of the Sokoban Wood Village in Kumasi if voted as President of Ghana.
Nana Akufo-Addo assured the wood workers that the completion of the second phase of the enclave will help improve their working and living conditions.

The NPP flag bearer was addressing workers of Sokoban Wood Village and some residents of Nhyiaeso on day four of his Ashanti Region 'Restoration of Hope' tour.

Nana Akufo-Addo rounded up his tour at the Wood Village with a mini rally to seek the support of the workers within the enclave who have in the past years been voting for the NDC.

He promised to relieve Ghanaians of the economic hardship they are experiencing, saying, "Ghanaians are suffering. Times are very hard…school fees, light bill are very high.
He added: "Let's vote Mahama and the NDC out and usher Akufo Addo and the NPP in. I will make sure that the national health insurance works not forgetting the free SHS. Every year, one million dollars will be injected into all constituency for development".

He entreated workers within the Sokoban Wood Village to vote massively for the NPP to complete the second phase of the enclave.

Nana Akufo-Addo and his entourage earlier went to Asiwa in the Bosome Freho constituency to endorse the NPP parliamentary candidate in the area, Joyce Pomaa Dei.

He pleaded with the party supporters and sympathisers to refrain from voting skirt and blouse because it does not auger well for the party.