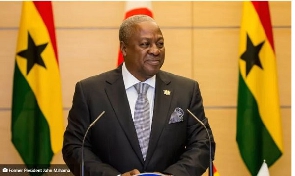 Former President John Dramani Mahama is of the view that the progress made by past Presidents of Ghana has been reversed by current President Nana Addo Dankwa Akufo-Addo.
He says Ghana currently has a President packing the various Institutions put in place by the 1992 constitution with what he described as partisan people.

"We have a President who has packed the various institutions set up by the constitution with clearly partisan people. He's done it with the Electoral Commission, he sacked the old Commissioners and brought in new Commissioners. Recently he's appointed additional Commissioners who are known to have a background as NPP apparatchiks and he doesn't care.
You can ask people in the Security Services. Promotions are no longer based on merit, they are based on your political inclination. These are things that weaken those services. There is a state enterprise in which the CEO is ill. You won't let him go home on ill grounds, you create an IMC to manage the Corporation while he is sitting at home on Health grounds," he said while speaking to KSM

He lamented over the effort put in by the President to weaken all the Institutions put in place by the 1992 constitution; indicating that it has drawn Ghana back several years.