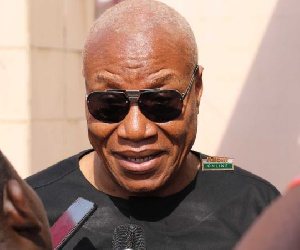 A flagbearer aspirant of the opposition National Democratic Congress (NDC), Prof Joshua Alabi has given his take on Akufo-Addo's two-year administration.
January 7, 2019, marked exactly two years Akufo-Addo was sworn into office as the fifth president of the Fourth Republic of Ghana and so many political pundits gave out their analysis. Some are unimpressed and others feel it's been two fruitful years.

Speaking to Nana Yaw Kesse, sit-in host of Peace FM morning show 'Kokrokoo', Prof Alabi said President Akufo-Addo did well in establishing the Special Prosecutor's office "but he should make sure everything is going on well there in terms of logistics"

Prof Alabi feels the ruling party is facing various challenges in their administration and that stems from the fact that they made so many promises before coming to power.

"Nana Addo's problems are the so many promises he made; because of all those promises, he is now facing the challenge of making sure they are all pushed through; a policy like the free SHS...".
He said if President Akufo-Addo had completed the school buildings started by the John Mahama administration, some of the second cycle schools would not be running on a double track.