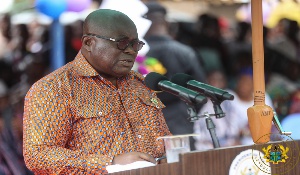 Ashanti Regional secretary of the ruling New Patriotic Party (NPP), Mr Sam Pyne has defended the integrity of president Nana Addo Dankwa Akufo Addo, saying the president stands tall compared to former president John Mahama
Sam Pyne says attempts by the opposition National Democratic Congress (NDC) to tag the president as someone who has lost integrity will not fly.

Mr. Pyne Who was reacting to assertions by Member of the NDC communications team, Chief Biney who sought to suggest that the inability of the president and his administration to fulfill a promise of completing the first 51 factories under the One District One Factory programme has waned the president's integrity.

But responding to the assertion on Adom TV's Badwam programme, Mr. Pyne observed that going by the unfulfilled promises of the erstwhile NDC administration led by former President John Dramani Mahama including their inability to fulfill the promise of constructing 270 day senior high schools and the one term premium of the National Health Insurance scheme among others, points to the fact that former president Mahama is far worse than the sitting president in terms of integrity.
He wants the NDC to be measured in their expectations of the president and his government since he is barely halfway into his tenure.

He is optimistic that the president will deliver on his promises to the Ghanaian people.