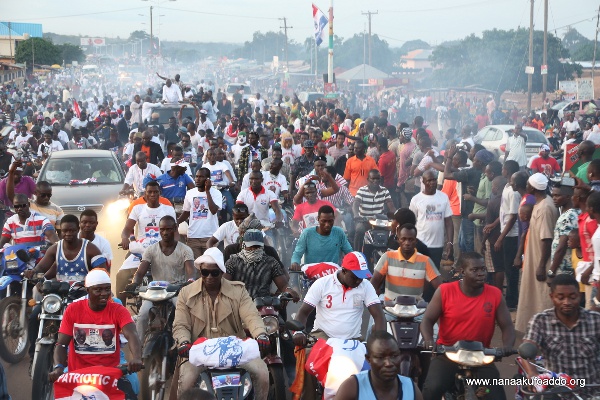 Thousands of residents of Tamale, the Northern Regional capital, inundated the streets on Wednesday, August 31, 2016 to welcome the presidential candidate of the New Patriotic Party (NPP), Nana Addo Dankwa Akufo-Addo and his running mate, Dr. Mahamudu Bawumia, to the metropolis.
A journey of about 25 minutes – from Savelugu to Tamale – took the NPP delegation about 4 hours to make, as human and vehicular traffic, described as unprecedented in the political history of Tamale, impeded the NPP flag bearer.

Akufo-Addo receives massive crowd in TamaleAmidst chants of "Nana oo Nana," "Shei ko shei," to wit: "whatever be the case he will get down" (in reference to the president) and "Change is coming," market women abandoned their wares, business owners came out of their shops, whilst commercial drivers parked their vehicles, all eager to catch a glimpse of the NPP leader and the vice presidential candidate.

Visibly excited and overwhelmed by the outpouring of support for his candidature, Nana Akufo-Addo told the residents, who later gathered at the Zogbeli Park, that he was confident that Tamale had joined in the "chorus for change."

Having announced the '1 District, 1 Factory' and the '1 Village, 1 Dam' policies, the diversification of the country's agriculture, revival of the National Health Insurance Scheme (NHIS), effective implementation of the Free SHS, the setting up of an Infrastructure for Poverty Eradication Programme (IPEP), the restoration of teacher and nursing trainee allowances, amongst others, the NPP flag bearer assured the people that he was committed to fulfilling each of the promises, when God-willing, he wins this year's election.
"I am not going to tell the Ghanaian people that I am going to do something when I know I cannot do it. I will never, ever lie to the people of Ghana. I will never do that. I have too much respect and love for Ghanaians to do that to them," he reiterated.

Nana Akufo-Addo stated, "Everywhere I have gone, there is a strong chorus of change for Ghana. And that chorus of change is taking the NPP and its candidate, Nana Addo Dankwa Akufo-Addo, to victory in December."

He continued, "I was coming to make an appeal to the people of Tamale to join this chorus, but I can see from this massive crowd that you have joined this chorus for change already."

The change the NPP is assuring Ghanaians of will mean that the years of stagnation and recession under John Dramani Mahama will be coming to an end for the years of progress and prosperity under Nana Akufo-Addo to begin," he indicated.
Send your news stories to and via WhatsApp on +233 55 2699 625.