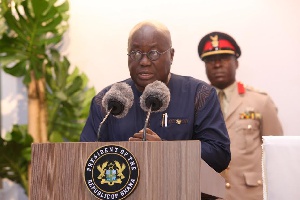 Fri, 15 Sep 2017 Source: Daniel Kaku
The Ashanti Regional Acting Organizer of the ruling New Patriotic party (NPP), Mr Daniel Agyenim Boateng has expressed his sincere gratitude to His Excellency Nana Addo Dankwa Akufo-Addo and his ruling team for implementation of the Free SHS policy.
He said President Nana Akufo-Addo will live long like Methuselah in the Bible did for future generations to see him and the good work he has done for Ghana.

According to him, the NPP government is noted for introducing marvellous and remarkable policies which are normally destroyed by the "incompetent" NDC party when they take over power.

"Do you know that the President His Excellency Nana Addo Dankwa is giving away about an amount of GHC600, 000,000 to Ghanaians for free? he asked.

"Admittedly, it's true that, the economy is hard due to the mismanagement and corruption of NDC government led by His Excellency John Dramani Mahama that has made Ghanaians suffered much," he added.

Mr Boateng also said the NPP government under former President John Agyekum Kufuor introduced NHIS to allow Ghanaians have access to free and quality health care, free maternal care, among others just as it has brought a Free SHS under the leadership of Nana Akufo-Addo.
"I say Bravo! Nana Addo Dankwa Akufo-Addo Addo and your ruling team," he extolled.

He added, "The beneficiaries of this GHC600, 000,000 are all Ghanaians who have their wards in first year of all Senior High School in Ghana. For the past one year, parents were paying not less than GHC1500 before their wards are admitted into SHS and this was just for the first term."

He explained that, "This means that, about 400,000 parents are now pocketing this GHC 1500, because of their thumbs."

He appealed to all Ghanaians to get involved and support government to take Ghana to the "Promised Land."

"As a good citizen please pay your tax for the government to do more of such," he pleaded.
Source: Daniel Kaku