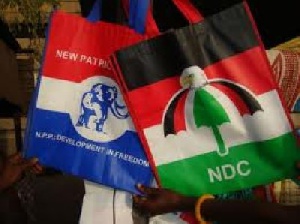 Francis Buah, a known activist of the New Patriotic Party (NPP) and member of the party's communications team in the Akwatia constituency of the Eastern Region, has said reports circulating in a section of the media that he has defected to the governing National Democratic Congress (NDC) are false and should be ignored.
According to him, he is still a member of the NPP and will vote for the NPP's flag bearer, Nana Addo Dankwa Akufo-Addo, in the December polls but not for the party's parliamentary candidate in the constituency.

Speaking in an interview with Chief Jerry Forson, host of Ghana Yensom on Accra100.5FM on Monday October 24, he said executives of the party in the constituency had failed to ensure the safety of communications team members who visit radio stations to preach the party's message and close late in the evening.

He explained that although several concerns had been raised, they had fallen on deaf ears, something that had dampened the spirit of most of the communications team members.

Buah narrated: "I am still NPP, I have not defected to the NDC. My position is that I will not vote for our parliamentary candidate, but I will vote for Nana Addo Dankwa Akufo-Addo for simple reasons. The communications work we are doing for the party is a sacrificial one, but at least we need to be recognised not only monetarily but people should appreciate what we do.

"Sometimes, we go on radio and close very late in the evening, yet there is no car to convey us to our homes. At a point, I had to cover a distance of about 1 kilometre on foot from a radio station to my house at about 11pm, which is very risky knowing the nature of our politics. I complained to our communications director but nothing was done about it. During our campaign launch, someone gifted the party two motorcycles. I suggested that we should at least dedicate one of the motorbikes to the communications team so that whoever will attend a programme late in the evening can use it, but that was not heeded.
"When I followed up, the communications director told me the chairman said he would not consent to our demand. It was at this point that I realised that they don't think about our security. I realised that I could just lose my life anytime working for the party and so I wrote a letter to them announcing my withdrawal from the communications team. That was what I did but I am still a member of the party. I have been an NPP member since 1992 and I will continue to be."

Meanwhile, responding to the allegations on the same show, the Akwatia constituency communications director of the NPP, Obeng Dankwa, said: "There is no truth in what he (Francis Buah) said. He has no power to demand for a motorbike. What happens is that we the communicators are given transportation fares and so transport issues for the communicators are taken care of.

"Those who actually need the motorbikes…to go and work for the party are those travelling from village to village to campaign for the party, not the communications team, because we are given transport fares.

"He doesn't have the authority to demand a motorbike; that authority rests with me, the communications officer of the constituency."