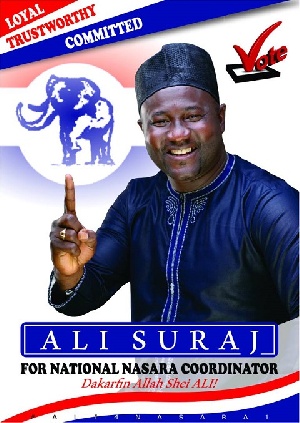 Sat, 17 Mar 2018 Source: Jabir Adam
The forerunner of the NPP National Nasara Contest and an industrious dude who identifies himself as a chief advocate of the Zongos in the circus of the NPP, Mr. Ali Suraj joined the Yankasa sect to perform the weekly sacred Jummah prayers in New York City.
The Yankasa group is an association of Ghanaian Muslims which envisions to foster and grow the relationship among Ghanaian Muslims in the United States.

Mr Ali Suraj ceased the opportunity to serve them greetings from the home country, Ghana and briefed them on the efforts the government is making to develop the country. The Nasara coordinator contestant being one of the pioneers of the union expressed his heartiness over the friendly connection that have been maintained and sustained.

After recognising the place of diaspora residents in the Ghanaian economy, he explained the strenuous economic action being undertaken by the Government of Nana Addo Dankwa Akufo-Addo to make Ghana a favourable destination for everybody.
The elated congregation were full of thanks for Mr Ali Suraj for taking time out of his busy schedule in the United States to have a sojourn with them. The Imam rendered a supplication for Ali Suraj in all his electoral endeavours.

Present in the mosque were leading figures of Yankasa and opinion leaders of the Muslim community in the United States.
Source: Jabir Adam