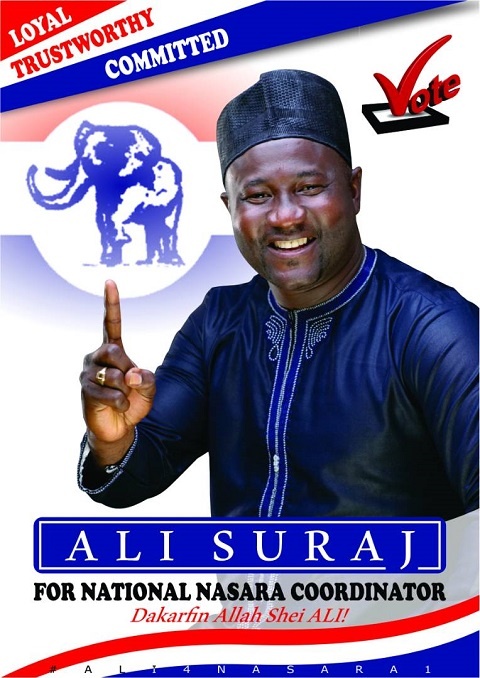 Thu, 8 Mar 2018 Source: Adam
In the aftermath of fruitful constituency elections that witness the election of a new crop of Nasara Coordinators, Ali Suraj called on Nasara Coordinators in the Central Region yesterday, Saturday, 3rd March, 2018 to congratulate them on a well-fought victory.
He maintained that in his opinion, an impressive deal of work has been done by the immediate past crop of Nasara executives by securing for the NPP fraternity the overwhelming victory of 2016, and it is their duty as well as himself to maintain the successes so far and add their own quota to the glories chalked.

He said "our unity, tranquillity and industry is what is going to gift us another resounding victory in the 2020 elections". Commenting on the need for Zongos to be the stronghold of the NPP, he said "I cannot scramble for any reason that accounts for the poor showing of our party in electoral results in the Zongos. The NPP benevolence towards the Zongos has no equivalent and that is palpable through the Ministry of Zongo Development, Zongo Development Fund and the most-talked-about Free SHS policy.

In cognisance of these, we should be at the receiving end of the overwhelming support of our Zongo communities. It is about time we chose a Nasara Coordinator who dines and wines with Zongos and with whom the Zongos identify with. That's the brand we need to return to the Zongos in our Congress and that brand is in me and I am that brand". The Nasara Coordinators in ecstasy expressed their deepest appreciation to Ali Suraj for coming down to their home region and pledged him of their fullest support in his bid to man the NPP Nasara wing.
Mr. Suraj did not also hesitate to humbly plead the support of all the honourable Nasara Coordinators of the great NPP in the form of prayers and pieces of advice to help him execute his campaign well and consequently serve them better if he is handed the nod.

Expectedly, Ali Suraj thanked them well for the audience and reception granted him and assured them of his continuous connection with them. Ali Suraj is obviously pitched to be the next national Nasara Coordinator. His popularity influence and far-reaching character in the Zongo communities clearly has no equivalent. He is a son of the Zongos.
Source: Adam
Send your news stories to and features to . Chat with us via WhatsApp on +233 55 2699 625.