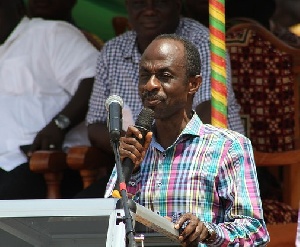 Mr Asiedu Nketia, the General Secretary of the National Democratic Congress, has assured losers of the parliamentary primaries that they would be catered for when the party retains the seat of Government after December.
Addressing some of the party's supporters at separate rallies held at Sumbrungu, Paga, Garu-Tempane and Pusiga in the Upper East Region, to launch the campaigns of the party's parliamentary candidates, the General Secretary, said it is important for those who lost the primaries to support the winning parliamentary candidates and President John Dramani Mahama, the flag- bearer of the party.

"All is not lost with you. Better opportunities await you. Some of you have the competence to be district chief executives, ministers, board members, and ambassadors among others depending on your contributions towards the party's victory. I, therefore, want to urge you all to bury your differences and join forces with the winning candidates", he said.

The General Secretary, however, warned that there would not be room for people who would want to go as independent parliamentary candidates, saying such people would be expelled from the party.
"The Upper East Region is one of the regions that has been the World Bank of the party since 1992. This is not based on ethnicity as perceived by others. It is based on the development projects and the pro-poor policies often embarked on by the NDC government in the area that attracts the votes", he said.

He pledged government's commitment to the continuous development of the region and appealed to the people to renew President Mahama's mandate.

The General Secretary, who also introduced the Parliamentary Candidates of the Bolgatanga Central Constituency, Mr Isaack Adongo, the Chiana-Paga Constituency, Mr Rudolf Amenga-Etego, the Garu-Temapane, Mr David Adakudugu and Pusiga Constituency, Hajia Lardi Ayamba to the gathering, urged the party's supporters to support them in their campaigns.