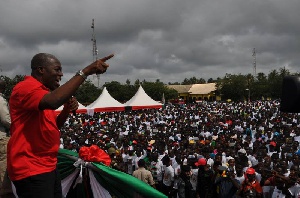 Tue, 4 Oct 2016 Source: GNA
Vice President Kwesi Amissah-Arthur has called on NDC supporters to ignore the accusations by the NPP against the party and focus their energies in ensuring victory for President Mahama.
He said while the NDC had already launched its national campaign team members and manifesto and poised for victory the NPP which has no policy is rather accusing them of stealing their ideas.

Vice President Amissah-Arthur was speaking to hundreds of NDC supporter at the campaign launch of the NDC's Parliamentary Candidate for the Asawase Constituency, Alhaji Muntaka Mubarak at the Aboabo school park in Kumasi.

Vice President Amissah-Arthur said a vote for President Mahama is a vote continuity and development.

He said the President Mahama led government has provided a lot infrastructural developments for the Ashanti region such as the Community Day Senior High Schools, roads, water, and health facilities. He urged the supporters of the party to be vigilant during elections and police the party's ballots to ensure a resounding victory for President Mahama and all the party's parliamentary candidates. Mr Johnson Asiedu Nketia, General Secretary of the NDC said the party does not discriminate against a person's ethnic or religious background but provides opportunities for all.

He accused the running mate of the NPP flagbear, Dr Mahamudu Bawumia of going about trying to woo the zongo communities to vote for NPP yet at the same time the NPP was working to expunge their names from the voters register.

Mr Asiedu Nketia also observed that Dr Bawumia may be a good person but has unfortunately found himself in the wrong party and therefore urged him to trace his roots to know where he rightly belongs.
"Dr Bawumia may be a good person but he has unfortunately found himself in the wrong party and that People may not vote for him not because of his personality but the party in which he has found himself", he added.

He indicated that Dr Bawumia is being used by his party to perpetrate falsehood to inure to the advantage of the NPP in the upcoming elections.

He said the NPP that he is seeking to win the support for would one day turn and accused him of not being credible and should not be trusted.

Mr Asiedu Nketia also noted that a time would come when NPP members would see him as someone without integrity because they have pushed him to play to the gallery to endanger his political future.

He therefore urged him to trace his origin and come back and join the party to which he was born.

Alhaji Muntaka Mubarak on his part thanked the people in the constituency for supporting for the NDCand voting for him as MP over years.
He assured the people in the constituency of more developmental projects for the area in terms of roads, schools health facilities among others.

He said Asawase constituency would continue to remain a stronghold of the NDC because the party does not discriminate against the Zongoes in the provision opportunities for all.

Other speakers at the function included Yaw Boateng Gyan, former National Organizer of the NDC, Nii Afotey Agbo, Greater Accra Regional Minister, Mr Andy Osei Okrah, Deputy Ashanti Regional Minister, Mr Yaw Obimpeh, Ashanti Regional Chairman of the NDC and Mr Ahmed Ibrahim, MP for Tain North.

Later, Vice President Amissah-Arthur introduced the NDC's Parliamentary Candidate for Asawase, Alhaji Muntaka Mubarak to the crowd. GNA
Source: GNA