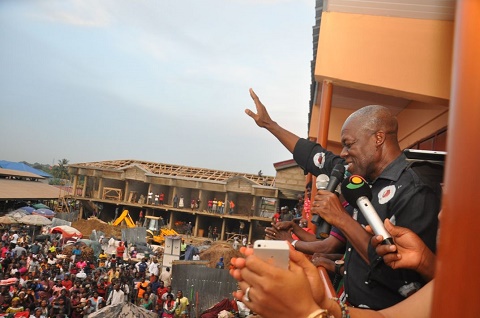 Tue, 29 Nov 2016 Source: Maxwell Okamafo Addo
Vice President Kwesi Amissah-Arthur has called on the people of Dome Kwabenya Constituency in the Greater Accra Region to reject the claims by the MP for the area Adwoa Sarfo that the projects initiated by government in her area was as results of her intense lobbying.
The Vice President said the Dome market, Asphalt road and the Community Day and the massive face lift in the area was as a result of government's agenda to develop those areas.

The Vice President's visit brought activities at the Dome market in the Dome-Kwabenya constituency in Accra came to a standstill when the Vice President, Kwesi Amissah-Arthur inspected the progress of construction of stores and sheds for the traders. He assured them that when the facilities are completed, they will be given the first option of acquiring and occupying them to do their business.

The Dome market is one of the biggest and busiest markets in the Dome-Kwabenya constituency. For years it has been neglected by successive political administrations. Efforts are therefore being made since 2009 to modernise with facilities so enhance trading.

Currently, construction of different stores and sheds are far advanced with some completed and are being used.

The visit by Mr Amissah-Arthur was to further assured the traders that work will soon be completed to enhance their trading activity and also introduced the NDC's parliamentary candidate for Dome-Kwabenya, Nurudeen Mohammed to the traders.

The DCE, John Kwao Sackey led the Vice President through the market amid the shout "JM Toaso" expressing their joy over the positive developments taking in the market.
The traders and the NDC supporters defied the earlier rainfall which had created stagnant waters and mud in the market to give the Vice President a rousing welcome.

He also paid courtesy calls on the chiefs of Dome, Nii Kwao Obuabasa, and Haatso, Nii Sorgblah.

The chiefs however endorsed President Mahama for another four years. They appealed to government to ensure that the December 7 polls are peaceful.

Vice President Amissah-Arthur ended his visit with a mini rally at the Haatso Yam market with the call on the people to turn out in their numbers and vote massively for President Mahama and Nurudeen Mohammed. He described as false claims that the development projects in the constituency were lobbied for by the sitting NPP MP Adwoa Safo.

The Basare community presented a white dove to the Vice President to signify the victory of President Mahama and NDC in the December 7 elections.
Source: Maxwell Okamafo Addo