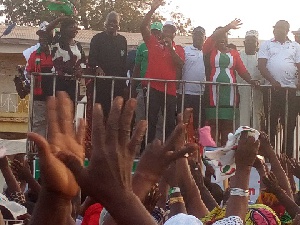 Sat, 5 Nov 2016 Source: Maxwell Okamafo Addo
Vice President Kwesi Amissah–Arthur yesterday held a mini rally at the redesigned Aboabo Market Complex and a bus terminal in Tamale as part of his accounting to the people tour to the Northern Region.
The Vice President, who arrived in the metropolis around 4 PM received a rousing welcome from the enthusiastic crowd that had gathered at the market to receive him.

The joy of the people was what the NDC had done for market women in the area with the massive infrastructure development that has taken place at the market.

The new market complex comprises 72 lockable stores, while the paved lorry park has been designed for heavy duty trucks, buses and saloon cars.

Aboabo Market is one of the oldest in the Tamale metropolis and it has been redesigned to enhance trading and commercial activities in the regional capital.

The project was implemented by the Tamale Metropolitan Assembly (TaMA), under the Ghana Urban Management Pilot Project (GUMPP).
The reception accorded the Vice President to the home region of President Mahama brought commercial activities and traffic to a standstill, particularly in the business district, with some of the people riding and tooting the horns of their motorbikes.

Vice president was in the Northern Region on the final leg of his four day campaign tour in some parts of the region. He called on them to give president Mahama a massive win come December 7th for him to continue with his good works.

Amissah-Arthur told the people that apart from the government investing heavily in infrastructural projects to transform the lives of the people, it was also investing heavily to improve the livelihoods of the people and economic activities

He had earlier addressed a durbar of the chiefs and people of the Wungu Traditional Area at Walewale and cut the sod for the commencement of work on an office complex for the Ghana Education Service (GES) District office at Walewale.

He said the government, as part of efforts to eradicate schools under trees, had constructed 1,600 basic schools across the country.
Source: Maxwell Okamafo Addo